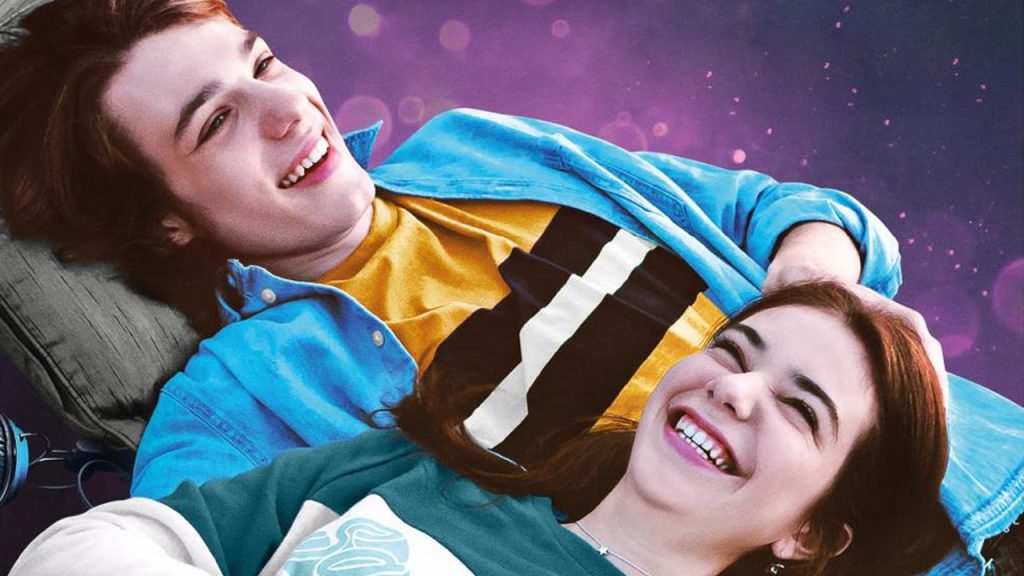 Recent controversy over abortion rights has led me to reflect how – if at all – abortion features in contemporary media storytelling. In the context of our project on girlhood in Italian cinema and television, teen audiences infrequently encounter stories that include abortion.
The few allusions that do occur speak to well-known particularities of Italian society, for example the dominance of the male perspective, the 'incest motif', and a preoccupation with the fantasy of heteronormative families, however young, in the face of low birth rates. Yet the mass appeal of teen stories on screen gives them powerful potential to open debate about the limited access to abortion that Italians face, and in this blog post I want to call for more open dialogue on the theme in Italian teen media.
Italians use the same word for abortion and miscarriage: aborto. The distinction in meaning can be made with an adjective: 'volontario' (abortion) or 'spontaneo' (miscarriage). In the linguistic confusion in Italian that often arises without the adjective, however, the involuntary nature of miscarriage obscures the possibility of an active decision not to continue with a pregnancy that abortion implies in English. It parallels a tendency in fictional screen narrative to resort to the 'convenient miscarriage', which prevents the protagonist incurring the stigma of abortion, allowing her to continue her planned trajectory.[2]
In particular I've been thinking of how this linguistic logic extends to the reception of teen movie Succede (It Happens, Mazzoleni, 2018), a romcom set in Milan, based on the bestselling novel by then 18-year-old influencer Sofia Viscardi (Mondadori, 2016). We eventually discover that the secret grief harboured by the 16 year-old protagonist, Meg, dates back to a previous unhappy relationship which left her pregnant. Her involuntary loss of the baby through miscarriage turns out to be pretty convenient for the film's plot. Yet a teen viewer recently commented how good it was to hear about a topic 'so rarely discussed': aborto. Even so we still don't really hear much about it; we simply hear that Meg only discovered she was pregnant when she experienced the pain of a miscarriage a few weeks after her first and only experience of penetrative sex. The way our student respondent celebrated the mention of the word 'aborto' at all underlines how little young people get to see and hear about miscarriage or abortion in Italian film and television, not to mention international media.
I am not the first to argue that media storytelling has long failed to weave abortion securely into the narrative fabric of everyday life, where it belongs. Yet things are changing. Giulia Siviero shows how US television has begun, finally, to depict abortion as a de-dramatized procedure in series such as Grey's Anatomy (2005-) and Scandal (2012). More recently, we can also cite an example from teen television: Sex Education (2019-) that features a female protagonist who takes abortion in her stride. More frequent references to the everyday presence of abortion have even seeped into Italian series like La mafia uccide solo d'estate (The Mafia Only Kills in Summer, Wildside/Rai fiction, 2016), Chiamami ancora amore (Keep Calling Me Love, Rai streaming, 2021), and Guida astrologica per i cuori infranti (An Astrological Guide for Broken Hearts, Netflix, 2021-).[3] In cinema, critic Maria Sanfilippo argues, the examples are still limited to independent films, like Obvious Child (Robespierre, 2014) or Never Rarely Sometimes Always (Hittman, 2020). Sanfilippo reserves particular distaste for the popular example of Juno (Reitman, 2007), which re-stages the hackneyed flight from the abortion clinic towards a full-term pregnancy.
Juno returns us to the teen film Succede/It Happens and my opening question: what of the teen film and television in Italy? Teen pregnancy featured in films like Prova a volare (Try to Fly, Cicconi Massi, 2007), Notte prima degli esami (Night Before the Exams, Brizzi, 2006) and Scusa ma ti voglio sposare (Sorry but I want to marry you, Moccia, 2010). More recently, in the wake of the increasing visibility of the pregnant teen body in US films, Italian teen film has also begun to include momcoms in its repetoire, most recently Slam (Molaioli, 2016) and Piuma (Feather, Johnson, 2016). Although all these films feature young couples expecting a child at a transitional life stage, abortion gets little airtime. The films focus instead on the male character's processing of the news, interpreted as an opportunity to prove himself in a necessary stepping up. The girl, in a twist on her representation in popular culture as 'can-do' (Projansky, 2014), tends to be coded as calmer and naturally desirous of motherhood. The sense of 'time panic', which Diane Negra ascribed to women's relation to their biological clock in postfeminist culture, is instead appropriated by the male protagonist, for whom the pregnancy is coded as potential loss, in keeping with existing interpretations of Italian comedy (O'Rawe, 2014).
In Scusa ma ti voglio sposare/Sorry, But I Want to Marry You, the hero of the teen pregnancy subplot signals his acceptance of the news with the purchase of a special cuckoo clock for his girlfriend and their nursery: a symbolic acknowledgement of his adjustment to a new timeframe (Figure 1). O'Rawe underlines not only the dominance of Italian comedy by men (p. 45), but also Italian cinema's frequent erasure of mothers from the text in favour of 'new fathers' (p. 80). Most recently she pointed out to me that teen television perpetuates these tropes, using the example of season 1 of Mare fuori (The Sea Outside, Rai, 2020-), which shows the acceptance by a young (17-year-old) male inmate of his girlfriend's pregnancy as symbolic of embracing maturity and being a man. The film Slam features several flash-forwards in which Samuele, the hero, time-travels and finds himself a father long before the nine months are up; he wanders around the experience in a comically dazed and confused state. Appearing an intruder in his partner's family home, Samuele's flash-forwards act as rehearsals, training the hero for fatherhood, and again reinforcing the idea that parenthood comes naturally to women, but not men.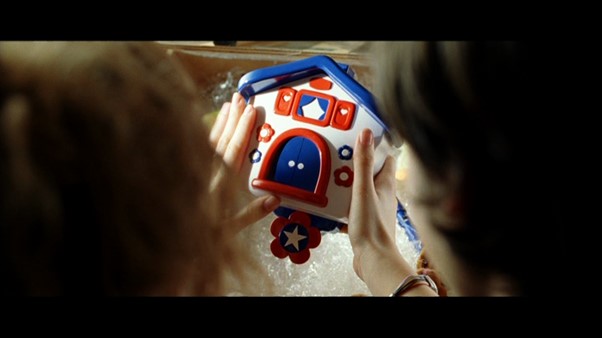 In the face of the seemingly implacable progression of their partners' pregnancies, the male protagonists must seek other forms of control. As Tania Modleski writes, 'men ultimately deal with female power by incorporating it', and it is through the appropriation of perspective and voice that this takes place.
The young hero's struggle to accept fatherhood is the central comic focus of Piuma/ Feather too. Ferro has a habit of recording himself so that he then provides the voice-over within the film world for events; at one point he writes a letter to the unborn child they are about to give up for adoption, a letter so moving that the couple decide to keep this child after all, his words determining their shared narrative trajectory. The will of mother-to-be Cate fades into the background. Cate's insistence on actually giving birth to the child to compensate for an earlier abortion, does at least make her a very rare example of a girl in Italian cinema who has actually had an abortion, implicitly an unhappy experience she has to repair, but the detail is immediately subsumed within the main narrative of pregnancy, Ferro's story. Here, as in Slam, adults are portrayed as pro-abortion, in their ruthless aspirations for their children's careers, while the younger generation struggle against it, suggesting anti-abortion sentiments are an expression of youthful and innocent hearts. In Slam the heroine's unsympathetic father gets on the phone immediately to an acquaintance working in a hospital to try to arrange the abortion, making the abortion appear a form of patriarchal control, and a middle-class privilege.
However, other tensions around abortion circulate in Italy and merit more attention, because they have less to do with struggles for gender and generational supremacy, and more to do with real-life obstacles. In the famous teen drama Notte prima degli esami/Night Before the Exams, school sweethearts, Massi and Simona, face the news of the pregnancy in their doctor's office, and ask him what to do next. The answer is 'Wait nine months…. Or change gynaecologist'. We then cut to a scene of Massi telling his friends they've decided to keep the baby making the obvious connection between their decision to keep the child and the difficulty caused by issues of conscientious objection by healthcare providers to the practice of abortion. However, by the film's ending the credits flash forwards in time to the future of Massi and Simona, with their three children, confirming Oliver's contestation that 'the future family that the pregnancy evokes or the fantasy of family has become the true romantic fantasy in an era of sexual liberation, affairs, single-parent households, and divorce as the norm' (Oliver, p 78)
The most striking example of this family fantasy is the teen melodrama, Prova a volare (Try to Fly, Cicconi Massi, 2007), which echoes older models of Italian cinema, such as Sedotta e abbandonata (Seduced and Abandoned, Germi, 1964) in which patriarchal fathers attempt to control their daughters' sexuality in the name of family honour, while daughters resist. The pregnant young daughter, Gloria (Alessandra Mastronardi), flees the wedding imposed by her father and goes to seek an abortion. In an unusually frank defence of teen agency, the photographer she flees with ends up defending her right to choose an abortion in the face of her father's attempt to prevent her (see subtitled clip). This photographer is played by teen heart-throb Riccardo Scamarcio, and his intervention on Gloria's behalf belonged to a significant new articulation of a teen female address in Italian cinema. As O'Rawe argues, the power of this audience segment had quickly become associated with Scamarcio's star persona three years earlier with his appearance as object of desire, Step, in the popular teen movie based on the wildly popular Federico Moccia novel Tre metri sopra il cielo (Three Meters Above the Sky, Lucini, 2004).
Of course, despite this empowering address and defence of teen agency, the eternal maternal instinct wins out and the mention of love, together with the sight of the backstreet abortionist's tools (see Figure 2) quickly convince the runaway bride not to go ahead. That the final shots of the film show her father carrying the baby grandchild strapped to his chest are a none-too-subtle example of the 'incest motif' that dominates Italian film comedy. However, the girl's initial decision to head south for a backstreet abortion also spells out the inaccessibility of abortion in Italy, and the sympathetic megera's (good wife's) reference to her experience of carrying out abortions 'particularly on young women' does make the practice of abortion a norm. The use of the Italian south as a site of ancient tradition, visible in the heroine's descent into a simple stone village home to meet the abortionist, also reminds the viewer that abortion is not a new phenomenon either.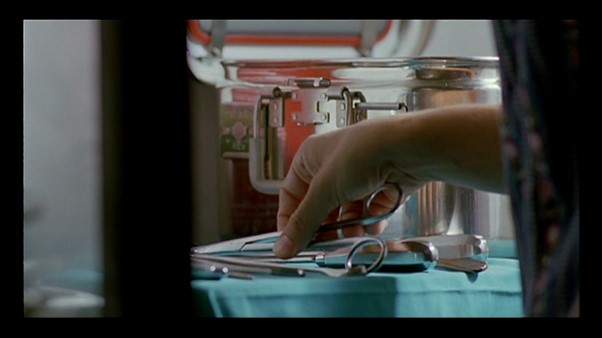 In most of these films, however, the abortion debate is summarily dismissed before the teens get down to the real matter: that of becoming parents. Such an emphasis assumes a particular inflection in the Italian context where preoccupations with 'natural' fertility in the face of recent debates about assisted fertility, and the relatively low birth rate, are keenly felt (Falaschini Lerner and D'Amelio, 2017). According to ISTAT, the percentage of mothers having children between the ages of 15 and 24 actually dropped between 2004 and 2014, from an already low 2.6% to 1.9%, and the average age at which Italians become mothers is 32. The stereotype of the feckless single mother, stigmatized mercilessly in countries with stronger welfare provision like the UK, is entirely absent from the Italian scenario. Instead, what provokes ideological conflict in these films is a tension between, on the one hand, the desire to encourage youthful reproduction and increase the birth rate, which reached its unfortunate culmination in the unpopular 2016 government 'Fertility Day', and, on the other, the wish to preserve a more traditional family model associated with adult parenthood. Abortion itself is out of the picture.
And so it goes on. Despite the wide range of dark themes handled in recent popular teen television series, from juvenile delinquency in Mare fuori (Rai, 2019-) to underage prostitution in Baby (Netflix, 2018-2020), abortion remains in the shadows. That absence perpetuates a lack of open debate about whose time and body is really at stake in the continuation of a pregnancy, and fails to challenge the lack of fair access to abortion that is becoming an ever more pressing issue in both Italy and the US. In the US abortion is no longer a constitutional right. After an overturning of Roe vs Wade, bans on abortion are expected in half the states. From the Italian perspective, some of this is horribly familiar. In both countries the majority of the people support abortion, but the workings of law betray them. Although Law 194, passed after the referendum in favour of abortion in 1978, made abortion possible in Italy, it also allowed for conscientious objectors in the medical profession, meaning that in many Italian regions abortion is actually inaccessible. Most recently, for example, with the resignation of the last gynaecologist to practise abortion, it became impossible for women to obtain an abortion in the Calabrian town of Cosenza.[4] Furthermore, the medical abortion, by the far the most straightforward procedure in the early weeks of pregnancy, is often made difficult to obtain. Letizia Magnani suggests it is currently only used in 20.8% of cases in Italy, compared to 87% in the UK.[5] The voices of protest are many: from Grazia magazine, to popular author and influencer Michela Murgia, to the Instagram group IVGstobenissimo (Abortion: I'm fine), Italian feminist voices underline the widespread difficulties of access. Returning to our film examples, there are hints of these restrictions in the backstreet abortion room of Prova a volare/Try to Fly and the gynaecologist who refuses to contemplate abortion in Notte prima degli esami/Night Before the Exams. The opportunities for storytelling around this thorny and controversial issue leave the door open wide for the creative industries in Italy. I am sure that Italian teen audiences, hungry to work out what abortion means for their lives, would welcome further elaboration on this theme.
Bibliography / Further Reading
Giovanna Faleschini Lerner and Maria Elena D'Amelio (eds), Italian Motherhood on Screen (Palgrave Macmillan, 2017)
Diane Negra, What a Girl Wants: Fantasizing the reclamation of the self in postfeminism (London: Routledge, 2009)
Kelly Oliver, Knock Me Up, Knock Me Down: Images of Pregnancy in Hollywood Films (New York : Columbia University Press, 2012)
Catherine O'Rawe, Stars and Masculinities in Contemporary Italian Cinema (Basingstoke, Palgrave MacMillan, 2014)
Sarah Projansky, Spectacular Girls: Media Fascination and celebrity culture (New York: New York University Press, 2016)
Maria Sanfilippo, 'Themed Playlist: Filming Abortion', 11/11/21, Themed Playlist: Filming Abortion – Centre for Screen Cultures (st-andrews.ac.uk)
Giulia Siviero, 'Come viene raccontato l'aborto nelle serie tv', Come viene raccontato l'aborto nelle serie tv – Il Post, accessed 4/7/22
---
[1] I would like to thank Dominic Barth, Catherine O'Rawe and Dana Renga for their comments on previous drafts of this post.
[2] Convenient Miscarriage – TV Tropes
[3] Giulia Siviero, 'Come viene raccontato l'aborto nelle serie tv', Come viene raccontato l'aborto nelle serie tv – Il Post, accessed 4/7/22
[4] https://www.ilfattoquotidiano.it/2022/07/19/cosenza-si-dimette-lultimo-ginecologo-non-obiettore-di-coscienza-in-citta-abortire-non-e-piu-un-diritto/6666241/#:~:text=Il%20dottore%20Francesco%20Cariati%20non,%C3%A8%20dimesso%20dall'ospedale%20pubblico.
[5] Letizia Magnani, 'Dove le donne non sono libere da scegliere', Grazia, 16/12/21 pp. 19-20; Abortion statistics, England and Wales: 2021 – GOV.UK (www.gov.uk).